"Not all contractors are created equal"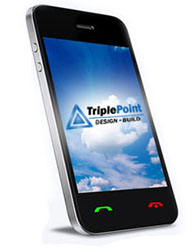 Quality residential remodeling is a skillset separate to itself. Highly selective trades need to be involved in a well-managed concert of operations to insure structure integrity. We specialize in these types of activities.
TriplePoint Design Build is a proven entity that performs quality work in a time sensitive manner. We are quality driven and provide the highest level of customer service. We have a very talented pool of proven trade partners that are equally responsive. Our projects are completed on schedule, are well managed, with minimal client interaction. We are seasoned professionals that provide unmatched construction expertise.
We utilize a "Cloud Project Management" system to facilitate open communication regarding your project from pre-construction activities right through the construction process.
A system that insures accountability, accuracy and effective communication. When you try to compare these qualities on a spreadsheet, there is no equal!