The Design Build Approach
Our Design Build team is comprised of professionals with disciplines that include architecture, engineering, interior design, financial and project management. Our carefully crafted team of experts ensures that your project is designed with budget expectations in mind while maintaining compliance with the latest structural hurricane codes. Our ability to have an established team of design professionals translates into a considerable time and cost savings for you.
Advantages of a Design / Build Remodeling Firm
Doesn't it make sense that the person responsible for the building/construction of your project is also involved in the design? When the same company that designs the project also builds it, there tends to be much more attention given to the pricing and scheduling in the design phase. Design Build refines and manages the process from beginning to end.
Eliminates delays that may potentially interrupt work flow.
From that first walk-through, our knowledgeable professionals can identify problems or challenges unique to your project. We know the building codes and are well versed in zoning issues, including everything from property lines to working around utility easements. We deal with the real issues – structural problems, septic systems, heating/cooling – everyday. We know what will work and what cannot.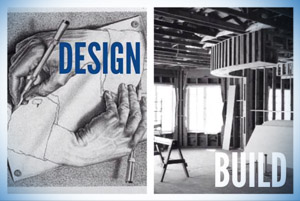 Gives you the facts up front.
More than anything else, people want to know the ultimate cost. With Design Build, you can expect projected construction costs (to within plus or minus 10% of actual costs) prior to committing to final construction drawings.
Design Build Approach Makes you an equal partner in the design process.
With our system, the owner is right there, working alongside the builder, insuring that budget, structure and design all work together. All too often we find that homeowners who come to us with completed drawings are disappointed when they are told the plans lack functionality for the necessary mechanical systems or the design and structural components are grossly out of budget. It has been our experience that many architects and design professionals have very little construction background and are unable to properly estimate current construction costs.
Addresses minor concerns in the design process promptly so they don't become headaches.
Owners will invariably make changes once the preliminary plans go to full scale production drawings. These modifications, if not addressed prior to construction, can cause serious delays and extra costs. The Design Build process enables the builder and homeowner to avoid these situations.
Ensures peace of mind.
The Design Build process facilitates our progress down a clear, orderly step-by-step path through the design and construction of your project. We at TriplePoint Design Build consider it an honor to be selected as your full service builder. In return, we promise you nothing less than complete satisfaction.
The Bidding Process
Experience has taught us that the best interests of the client and the contractor are not well served by the "low bid" process. We encourage the "negotiated bid" process, where the project team is encouraged to dialogue openly and honestly and arrive at realistic budget goals together.
TriplePoint Design Build is dedicated to our clients' overall satisfaction with the construction process.